RMHC Master's Student Returns from Peru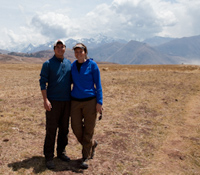 Janie Koike and her husband Kenzo returned to the Tampa area after living in Peru for 9 months. While there, Janie worked at the only domestic violence agency in Cuzco that actually works with the aggressors as well as victims. She did all of her therapy sessions in Spanish which she states was quite a challenge, but very very rewarding.
In addition to her volunteer work, she had a lot of time for adventures including hiking for four days on the legendary Incan Trail to Machu Picchu, seeing a puma and lots of monkeys in the Peruvian Jungle and painting a mural for the hidden house where domestically abused women take refuge.
The young couple lived with a local family and had the opportunity to share several birthdays, Christmas, New Years and Easter with them. Although they really miss them now, they're really happy to be back in their own place in the USA as well as being back on campus finishing their degrees. (Kenzo is a 4th year USF medical student and Janie is in her last year as a master's student in the Department of Rehabilitation & Mental Health Counseling.)
Both were recipients of the Genshaft/Greenbaum Passport Scholarship through USF and plan on thanking them personally by presenting them with a traditional Peruvian bull (it looks like the one in the link - but much larger and fully painted in green and gold).
The Koike's kept an extensive blog of their adventures that can be seen here.